AJAX is a family of Armoured Fighting Vehicles being developed by General Dynamics for the British Army. Here, defence writers Paul Elliott and Julie Shennan examine its implications for the soldier in the field and the UK supply chain.
Replacing the Combat Vehicle Reconnaissance (Tracked) (CVR(T)) platform, the AJAX programme of Armoured Fighting Vehicles (AFVs) being developed by General Dynamics for the British Army includes six variants – AJAX, Ares, Apollo, Athena, Atlas and Argus.
AJAX will form a central component of the UK's new Strike Brigades, which were announced in last autumn's Strategic Defence and Spending Review (SDSR).
The scope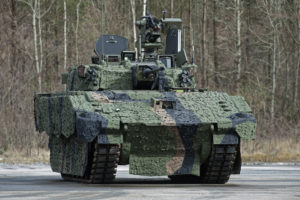 In September 2014 General Dynamics was awarded a £3.5 billion contract to deliver 589 AJAX vehicles to the British Army. In July 2015 the company was awarded a further £390 million contract to provide in-service support for the AJAX fleet until 2024.
This order included scope for 245 turreted AJAX variants, 256 Protected Mobility Recce Support (PMRS) variants and 88 Engineering variants based on the PMRS. The 245 turreted AJAX variants consist of 198 Reconnaissance and Strike, 23 Joint Fire Control and 24 Ground Based Surveillance vehicles.
The 256 PMRS variants comprise 59 Armoured Personnel Carriers, or APCs (Ares); 112 Command and Control vehicles (Athena); 34 Formation Reconnaissance Overwatch vehicles (Ares); and 51 Engineer Reconnaissance vehicles (Argus).
Finally, the Engineering variants based on the PMRS comprise 38 Recovery vehicles (Atlas) and 50 Repair vehicles (Apollo).
The range of AJAX variants will allow the British Army to conduct sustained, expeditionary, full-spectrum and network-enabled operations with a reduced logistics footprint. It can operate in combined-arms and multinational situations across a wide range of future operating environments.
The first British Army squadron will be equipped by mid-2019 to allow conversion to begin with a brigade ready to deploy from the end of 2020.
The contracts
From its initial award, General Dynamics has sub-contracted out several parts of the AJAX programme production, including (but not limited to):
Thales – for 245 DNGS-T3 stabilised day / night gunnery sights (£54 million) and sighting systems and ancillary equipment (£125 million) for AJAX's Reconnaissance variant
General Electric's Intelligent Platforms – for AJAX's embedded computing sub-systems (£64 million)
Kongsberg – for AJAX's Protector remote weapon systems (£61 million)
Meggitt Defense Systems – for AJAX's 40mm cased telescoped linkless Ammunition Handling Systems (AHS) and cannon AHS ($42.1 million)
Lockheed Martin – for the design and delivery of AJAX's 245 turrets
Rockford Components – for electronic wiring and cable work for AJAX's turrets (£20 million)
BAE Systems and Nexter Systems – for AJAX's 40mm Cased Telescoped Cannon (CTC)
Rheinmetall – for AJAX's turret structure manufacturing
Curtiss-Wright Corporation – for AJAX's Turret Drive Servo System (TDSS)
Kent Periscopes – for AJAX's periscope designs (£9 million+)
QinetiQ – for evaluation of AJAX's Active Protection System (APS) (£7.6 million)
Rolls-Royce – for 589 MTU Series 199 diesel engines for AJAX's platform propulsion and power generation
GKN Aerospace – for AJAX's fuel tanks, developed at its Portsmouth fuel systems facility
Cook Defence Systems – for AJAX's tracks
Williams Advanced Engineering – for AJAX's core infrastructure distribution system (£17 million)
Permali Gloucester – for AJAX's composite armour materials (£15 million)
Smiths Detection – for AJAX's chemical agent detectors (£6 million)
Saab – for AJAX's mobile camouflage systems
Oxley Group – for AJAX's high-performance LED lights (£1 million+)
Marshall – for AJAX's driver training replica modules
XPI Simulation – for AJAX's driver training software and motion base
Corporate Risk Associates – for AJAX's crew space risk assessment work
The progress
In December 2012, the programme passed its first major design point, the Preliminary Design Review (PDR), which reviewed initial design of the AJAX fleet along with its risks and mitigations.
Following this the Common Base Platform Critical Design Review (CDR) was completed in late 2013, with the overall PMRS-variant CDR completed in June 2014. This was the start of a programme of Critical Design Reviews for all AJAX variants, which continued through 2014 and 2015.
The Mobile Test Rig (MTR) – the precursor to a prototype Specialist Vehicle – has undergone Cold Weather, Operational and Tactical (O&T) and Mobility trials, as well as Accelerated Life Testing (ALT). It has been providing significant chassis and driveline de-risking since June 2012.
A preview of the first pre-production prototype, a PMRS variant, was unveiled at DVD2014.
Subsequently, on 3 September 2014, General Dynamics UK was awarded £3.5 billion to deliver 589 SCOUT SV platforms to the British Army. On 15 September 2015, the SCOUT SV programme was renamed AJAX.
In September 2015, the first turreted AJAX prototype was unveiled at the DSEI expo at ExCeL in London.
On 10 August 2016, Lieutenant General Paul Jaques, Chief of Materiel (Land) and Quartermaster General, visited General Dynamics' Merthyr Tydfil facility where the AJAX fleet will undergo Assembly, Integration and Test (AIT).
Speaking during his visit, Lt Gen Jaques said:
I am pleased to see first-hand today the significant, continued progress at the Merthyr Tydfil site. The AJAX programme demonstrates how the Ministry of Defence is working in partnership with industry to deliver state-of-the-art capabilities to the British Army and this facility highlights our commitment to that."
If you would like to join our community and read more articles like this then please click here
The post AJAX: boosting UK Land capabilities appeared first on Defence Online.