Consisting of 28 member states and thousands of staff, plus those on secondment to the agency, communications and collaboration are very important to the running of the North Atlantic Treaty Organization (NATO).
Close collaboration between the states means many meetings and conferences, by bringing video conferencing technology to the table, decisions can be made quickly and effectively. However, with 28 different languages meaning 28 different ways to say hello and goodbye, and all the nuances in between, it is crucial that video conferencing catches the mannerisms and expressions of the people speaking.
Defence Online spoke to Gus Mommers, Head of Conference Management Services at the NATO Communications and Information agency, to discuss the system currently in use and his mission to implement video conferencing at every level.
Gus told us that the NATO is currently using Polycom technology for command and control meetings, international communication and operational mission collaboration.
"One of the key advantages to me is the clarity of the video if you have a video technology where the clarity is not that good – a lot of the nuances are lost, things can be misinterpreted. If it's just a chat, then maybe that is not as important – but if we are hearing from a theatre of operations, someone in the field, then it can be critical. That video quality needs to be absolutely pitch perfect. Which it is from Polycom – better than I've seen on other systems."
NATO has three levels of network security, with the Polycom technology fully operational within NATO's Restricted Network, a highly protected and secure network within NATO's infrastructure, as well as the lower levels.
NATO must be meticulous in evaluating communications solutions and emphasis is placed on solutions that hold up against attempts to intercept information. The security assurance and experience presented with the RealPresence Centro system has allowed the solution to be tested, certified and approved by NATO for use.
October last year saw the introduction of the Polycom® RealPresence Centro™, the industry's first solution purpose-built to put people at the centre of collaboration.
The RealPresence Centro is an advanced video conferencing and content sharing solution that captures high quality, natural video, while the RealPresence WebSuite allows people to join video calls from any platform wherever they are and whatever they are using – phones, tablets or desktops – meaning that NATO can communicate with as many people as possible across the world without prohibitively high requirements.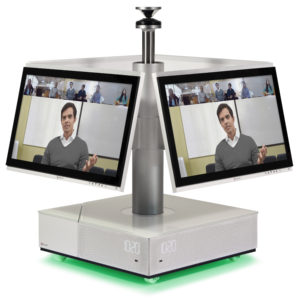 The system serves as a collaboration focal point for command and control meetings, training and administrative sessions, international communication and operational mission collaboration. The system automatically tracks the speaker, while also showing the entire meeting space on the same screen, with four touch screens strategically placed in the middle of the room to create a unique intimate experience that drives deeper collaboration and better outcomes.
"NATO relies on the advanced capabilities of Polycom's collaboration solutions to instantaneously bring our teams and nations together to carry out highly secure, highly critical missions." says Gus.
"There are more factors than just 'quality' of why we chose to go with Polycom: another factor is the way in which we do acquisitions in NATO – we go to multiple vendors when looking at a project and we use the best bid.
"Security obviously is a very high priority. The Polycom system has been easily adapted into the secure networks. It is one of the things we specify during procurement – the security grading systems must have."
"We also have direct links with Polycom, they give 24/7 support which is very important to us and to them, that they get feedback direct from the user rather than a third party service provider."
User feedback is something that Gus follows closely – but he says he needn't worry about the integration of video conferencing into NATO: "I just look at the utilisation of our network. We have 120% utilisation and I think that says enough. After some initial teething problems, as with any new technology, our users have taken very well to the system – which is shown by the adoption of the technology by member states. And I don't think this is all down to that phrase ROI! reducing people's travel costs does bring that up, but I think it's more to do with availability. For me, if I have an idea or need to implement something, I can pull my team together within five minutes, we don't need to book a meeting room or reorganise schedules, things which lose the momentum. The Polycom technology gives people a real, natural presence and they can embrace that technology as human interaction is still very important."
And the next stage?
"The Polycom system has been very successful where it has been implemented. My mission is to integrate the technology into all devices, allowing all NATO staff and members to communicate through the system on a day-to-day basis."
If you would like to join our community and read more articles like this then please click here
The post Collaboration and communication at NATO appeared first on Defence Online.