In 2014, the Satellite Applications Catapult expanded its UK reach into Scotland with the establishment of a Scottish Centre of Excellence based at the University of Strathclyde. Now the initiative is expanding further in partnership with Highlands and Islands Enterprise. MOD DCB features writer Domhnall Macinnes spoke to James Cameron, Head of Life Sciences at HIE, to find out more about the implications for healthcare businesses in the region.
The Scottish Centre of Excellence in Satellite Applications (SoXSA), based in Strathclyde University's Faculty of Engineering, was established in 2014 as part of the UK Satellite Applications Catapult's Centre of Excellence programme. The ambition behind the programme is to aid businesses to utilise the UK's multibillion-pound space sector, spawning innovative solutions to drive economic growth.
This expansion into Scotland followed the announcements of two other Catapult Centres of Excellence on the South Coast and in the South West of England. The data obtained from space satellites can be used to benefit a range of sectors from healthcare to renewable energy.
For the last three years or so, Highlands and Islands Enterprise (HIE) has been working on projects relating to satellite technology. In January 2014, HIE signed a Memorandum of Understanding with Stuart Martin, Chief Executive of the Satellite Applications Catapult, looking at areas where satellite technology could benefit rural communities.
Last month, HIE and SoXSA announced a joint venture in the form of a 28-month project to bring satellite data opportunities to SMEs in the region. A dedicated 'Solutions Architect', based in Inverness, will ensure that companies are aware of the commercial opportunities afforded by satellite data and are in a position to fully exploit these.
Life sciences and healthcare is one of the sectors that will be a key focus for the current project. Other areas where Highlands and Islands has distinctive strengths, and which will benefit from satellite data being made more accessible, are marine renewable energy and the connected digital economy.
Geographically, Highlands and Islands covers half of Scotland, from Shetland to Argyll and from the Outer Hebrides to Moray, and is predominantly rural. Population is just under five hundred thousand, around nine per cent of the Scottish total. HIE's priorities include supporting businesses and social enterprises, strengthening communities and fragile areas, developing growth sectors, particularly distinctive regional opportunities, and creating conditions for a competitive low-carbon region. With regard to life sciences and healthcare businesses, satellite applications can play a significant role in service delivery, making them stronger and more sustainable.
According to Scottish Government figures, there are approximately 4500 deaths in Scotland each year relating to cerebrovascular disease (CVD). A stroke is one of the four most common types of CVD, and if not treated rapidly can leave the victim severely physically disabled. However, providing a rapid medical response to stroke poses many challenges to healthcare workers in more rural areas including remoteness, distance from the nearest hospital and weather conditions.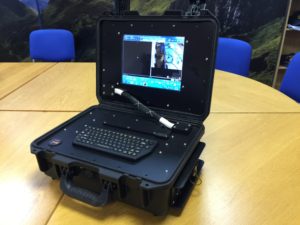 One project aimed at addressing these challenges is called Satellite Ultrasound for Rural Stroke (SURS). James Cameron, Head of Life Sciences at Highlands and Islands Enterprise, explained: "There's a short window of time for patients to receive the appropriate treatment if they've suffered a suspected stroke. If you think about geography, it is very challenging to even get to Raigmore Hospital in Inverness in time, never mind get through the system and receive their treatment.
"Working with the Satellite Applications Catapult and some commercial partners the SURS project explored and demonstrated available technologies. Satellite technology allows for a stream of images from a remote area to be sent back to the clinician at Raigmore."
Mr Cameron notes that the technology has been tested – and it works. Studies were carried out in partnership with the University of Aberdeen, clinicians at Raigmore and a number of commercial companies, notably Tactical Wireless. The SURS project demonstrates that satellites can often be an excellent back-up in critical or emergency situations.
Mr Cameron commented: "The SURS project with Tactical Wireless and the Satellite Applications Catapult attracted the company (Tactical Wireless) to locate in the Highlands and forecast 50 new jobs in Forres."
Through the above partnership study, a prototype ultrasound machine was created whereby transcranial images could be sent through a number of communication channels available in a remote area – including satellites. Ultrasound images were sent from remote locations all over Scotland to clinicians to discover if a patient's state of health could be assessed prior to reaching the nearest hospital.
The use of satellite technology is not just restricted to the SURS initiative. Mr Cameron noted: "We have other projects which are in the scoping and trial stage and about to be kicked off. These projects will build on the technology and experiences from SURS-supporting GPs, particularly for GPs who are on the move and where technology can get them connected into their systems either back in the surgery or through to Raigmore.
"If you can't get a mobile phone connection or the phones are down because of adverse weather conditions, satellite technology may well be available and provide the essential support required."
HIE's work with the Satellite Applications Catapult is ongoing and is also incorporating other organisations in providing more robust systems using satellites when appropriate. HIE in Inverness is leading on this UK-wide project. Participating organisations range from the Isles of Scilly, Devon and Cornwall, Oxford and Manchester to Orkney.
Mr Cameron said: "It's a UK-wide project testing various aspects of technology and support to British rural communities. So we see a lot of opportunity for the use of satellites, given the planned expansion and coverage. Driving forward, and in partnership with the Satellite Applications Catapult, we are hosting a workshop in August where we'll have the Isles of Scilly, Manchester School of Architecture and Orkney back together looking at specific projects where we could utilise the technologies."
Again, the focus is on improving healthcare in rural areas through the use of satellite technology, allowing the telecoms networks to be more resilient. Although these studies are in their early stages, the establishment of the new Centre of Excellence in Satellite Applications in Inverness will fuel the ability to work on these projects, vastly improving rural healthcare communication tools.
For further information, visit: www.hie.co.uk
If you would like to join our community and read more articles like this then please click here
The post Catapulting satellite technology into emergency healthcare appeared first on Defence Online.