In August 2009 Ascent Flight Training – a joint venture of Lockheed Martin and Babcock – signed its first MOD contract to provide the UK Military Flying Training System. Seven years on, MOD DCB features editor Julie Shennan caught up with Lockheed Martin Business Development Director, Tim James, to discuss the progress on UKMFTS and the implications for UK defence training.
The UK Military Flying Training System (UKMFTS) project was launched by the Ministry of Defence in August 2009. Initially valued at £635 million, UKMFTS was forecast to rise in value to approximately £6 billion over the lifetime of the programme.
UKMFTS was conceived as a significant Public Private Partnership (PPP). To deliver this PPP, Ascent Flight Training – a joint venture between Lockheed Martin and Babcock – was formed in 2008, when it first agreed to work with the MOD over the life of the 25-year UKMFTS project.
Lockheed Martin and Babcock were chosen for their wealth of flying training knowledge. Babcock currently operates the RAF Tucano logistics and maintenance programme as well as the Light Aircraft Flying Training programme. Lockheed Martin annually provides training for more than 20,000 aircrew worldwide, including US Air Force Special Operations crews.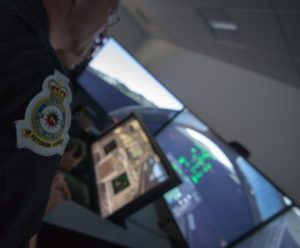 In August 2009 Ascent Flight Training was awarded its first UKMFTS contract, for Rear Crew Stage 1 training. The £57 million, five-year contract implemented a training system for Royal Naval Observer students, including Introductory Flying Training (IFT), a Common Core Ground School (CCGS), Elementary Navigation Training (ENT) and Basic Flying Training (BFT).
Rear Crew Stage 1 was designed to replace the Basic Observer Course and the ageing Jetstream T2 aircraft with four Hawker-Beechcraft B350ER King Air aircraft. The arrangement included a sub-contract between Ascent and Cobham's FR Aviation for integration of a radar and tactical mission training system, as well as maintenance and airworthiness services.
This project paved the way for others in which Ascent Flight Training worked with the MOD's 22 Training Group and Defence Equipment and Support (DE&S) organisation.
Today UKMFTS caters to the learning needs of all UK military air crew including Rear, Advanced Jet and Multi-Engine Pilot Training. Additional UKMFTS contracts detailing future services and purchases will be announced as the programme progresses.
This programme strives to involve SME suppliers, a growing ambition of the MOD. Lockheed Martin Business Development Director Tim James explained how, like many MOD suppliers, Lockheed Martin works to engage with SMEs.
He said: "Engagement with the SME community is critical for prime contractors; Lockheed Martin does a lot of work with trade bodies like Niteworks. This programme is good at helping SMEs get into early phases of MOD programmes.

"Lockheed Martin has a very robust sub-contractor programme management strategy; it is trying to engender a really vibrant supply base and focus on ethical supplier practices."
Ascent will design and deliver the overall training system that includes Lockheed Martin's proven training management information system as well as aircraft platforms and simulators.
The MOD will determine UKMFTS training output requirements and standards and provide key operational elements such as airfields, fuel and instructors.
Mr James commented: "Ascent Flight Training will now deliver MFTS on the Ministry of Defence's future air crews training systems as well as those supporting fixed-wing pilots, rotary-wing pilots, multi-engine pilots and fast jets, including the F35 Lightning II.

"It is also going to train aircrew in the broadest sense, in a whole range of platforms and at a number of bases in the UK."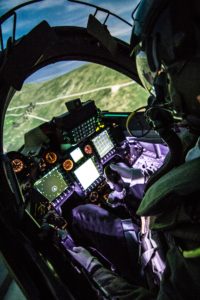 UKMFTS takes individuals who have been through their initial training but haven't yet started their professional training. Once they have been streamed into the various aircrew positions, they enter the UKMFTS programme proper.
Mr James explained: "Students can spend up to two and a half years in our MFT systems – and if they are going to be a fast-jet pilot, even more.

"Fast-jet pilots go through an elementary flight training phase on a Grob light aircraft; if they are successful on this they go on to a T6 advanced turbo propeller aircraft; and if they are successful on that aircraft they will go on to the Hawk T2 jet training aircraft. Then after all that – if they are selected for the F35 – they will enter the LM F35 training system at RAF Marham, at which point they will be a fully qualified F35 pilot."
All UKMFTS training uses intelligent classrooms and clever synthetics – such as simulators and learning management systems – which allow students continuity of form as they graduate from aircraft to fast-jet training.
Mr James said: "Lockheed Martin created a learning and training management information system which aims to give the different stages of training a common look and feel. This makes it easier for everyone to get a holistic view of the training, allowing instructors to select the right training medium: be it simulators, aircraft, classrooms or self-paced learning."
In the past flight training systems relied on teaching people while they were in the aircraft, a restriction that made training more challenging and less efficient.
Unsurprisingly, the new UKMFTS technology has been embraced by students, with the first RAF fast-jet graduates passing out of the programme in June 2013. The graduates were formally recognised by Chief of the Air Staff, Air Chief Marshall Sir Stephen Dalton, in a ceremony at RAF Valley.
As well as UK students, RAF Valley has been attracting international visitors, with foreign embassies keen to see UKMFTS in action.
Mr James commented: "RAF Valley, which is one of the training delivery sites for the Military Flight Training System, has had the most amazing number of senior international delegation visitors who have all heard great things about the programme. It is really putting the UK at the forefront of defence training."

He concluded: "The UK does defence training very well; we have a long history in this field and hopefully this programme will carry that tradition into the future."
The post UK military flying training hits news highs appeared first on Defence Online.